LATEST TECHNOLOGY
TIPS & TRICKS
MIUI 12 launched with major visual redesign, Dark Mode 2.0, and more
Alongside the new Mi 10 Youth, Xiaomi officially unveiled its latest custom Android user interface – MIUI 12. It's still based on Android 10 but brings a visual overhaul with a simpler flat look alongside plenty of new animations, an improved dark mode, new health app and more sophisticated privacy
MIUI 12 Summary
At its MIUI 12 reveal event, Xiaomi also noted that MIUI now has 310 million monthly active users and that the latest version is the first mobile operating system that has passed TÜV Rheinland's "Android System Enhanced Privacy Protection Test."
Starting off with the visuals, Xiaomi has flattened pretty much all of MIUI. There are new app launch and closing animations that Xiaomi claims are faster and more fluid than before. Dark Mode 2.0 is another key addition that brings wallpaper dimming and font adjustment to make text easier to read and reduce eye strain.
Other neat visual additions include the new live wallpapers which zoom in from a space view to an aerial shot each time you unlock your phone. There's also new always-on display functionality and floating windows which allows you to keep small app previews open on top of full-screen content. Gesture navigation now adopts the stock Android 10 approach and Xiaomi has improved notification management with its new quick reply feature.
Another key feature in MIUI 12 is the improved privacy management which can now keep track of your apps' behavior and will show you specific ones that abuse permissions. In addition, Xiaomi is implementing a new virtual ID security protocol that prevents suspicious apps from accessing vital information from your device.
Xiaomi is also adding new accessibility features with AI Calling which can transcribe calls and suggest responses during conversations for hearing impaired users. Mi Health which is now official, promises improved activity tracking thanks to new AI algorithms and also offers sleep tracking without any additional devices, as it simply requires placing the phone under your pillow.
MIUI 12 closed beta testing is now live for Chinese users while the stable build is scheduled to release in June. It's important to note that these are the time frames for the Chinese MIUI while international release dates will vary.
Dark Mode 2.0
The new Dark Mode 2.0 on MIUI 12 will bring wallpaper dimming to Xiaomi phones. The feature will work in tandem with the time of day and will gradually dim the wallpaper as daylight changes to night time.
Xiaomi is also tweaking the way text is displayed as users switch between light and dark modes. In MIUI 12, the phone will automatically adjust the weight and boldness of the font to reduce glare when the dark mode is turned on. Font contrast will also be adjusted depending on the user's ambient environment. This should vastly improve legibility of text in low-lit conditions.
Sensory Visual Design
In MIUI12, Xiaomi has visualized the core system information, allowing you to see the status of the system at a glance. Xiaomi is calling this the new "Sensory Visual Design." What this basically means is that now when you visit the Settings page on your phone or check out things like storage availability, you will see the system information presented in the form of graphs and visual diagrams, making it easier to understand and consume. You can see examples of Xiaomi's new design in the images above.
Super Wallpapers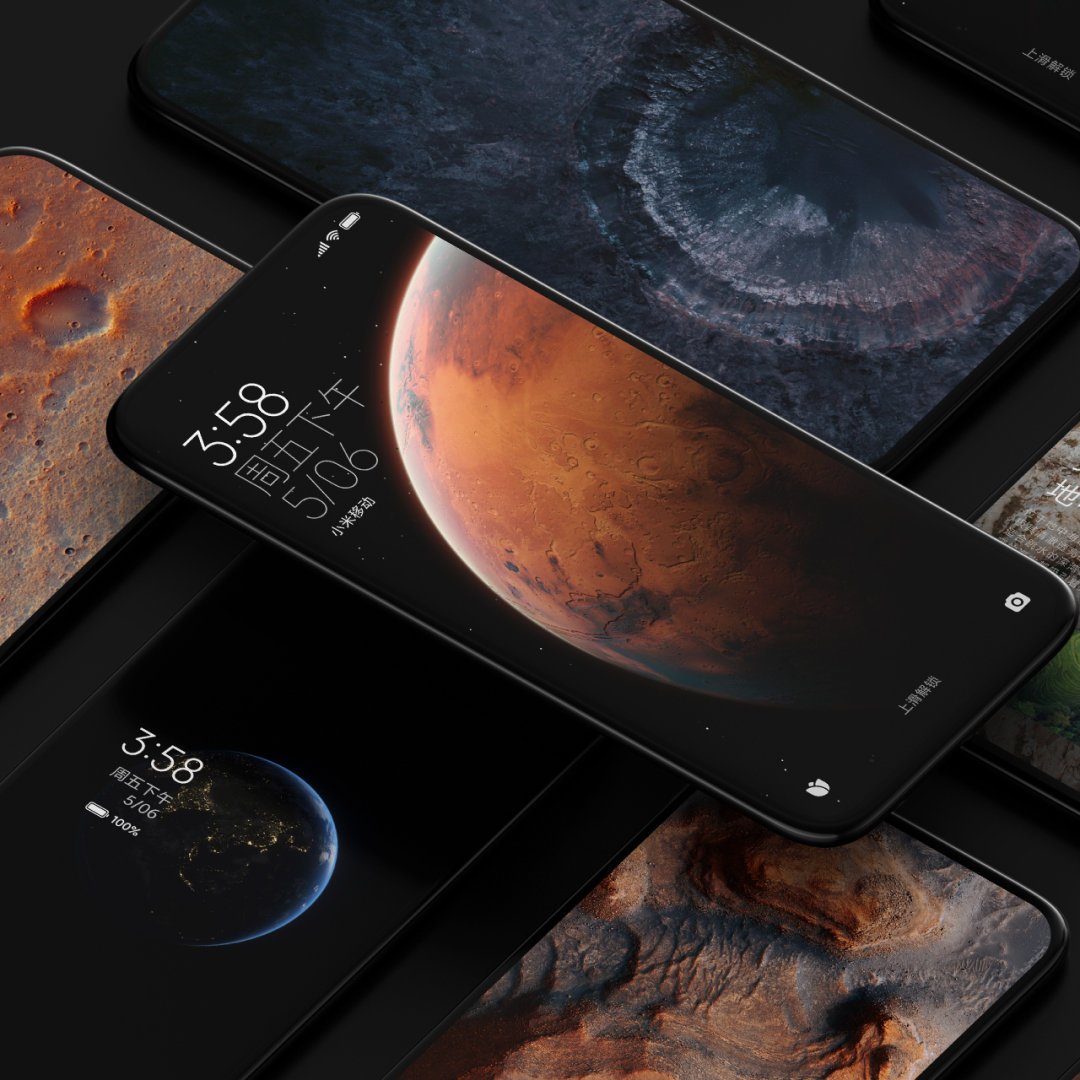 Xiaomi has also introduced "Super Wallpapers" with MIUI 12. The company has created high-precision animated 3D models of Mars and Earth based on available space exploration data from NASA. You will be able to set these Super Wallpapers on both your locked and unlocked phone screens. When the dark mode is turned on, the planet chosen by you for the wallpaper will also enter night time, thereby enhancing your visual experience.
New animations
Xiaomi has focused a lot on visual redesign when it comes to MIUI 12. The new skin will bring realistic weather animations and show real-time weather changes displayed in the form of a time-lapse movie on your screen.
The animation of app icons also gets a refresh. App icons will now generate real-time feedback based on your gestures. Xiaomi says changes in gesture direction and speed will cause application icons to react differently.
For instance, when you delete an application, the ripple animation will also affect the surrounding app icons.
In other areas, you'll notice new animations for screen rotation, buttons, charging, opening and closing apps, and more.
New gestures
MIUI 12 also brings some new gestures to your phones. For instance, you will be able to swipe down on the notifications panel to interact with a notification without having to abandon what you're doing. You can also slide out the notification panel to expand it into a small window, which you can drag to the side for a split-screen effect.
Health tracking
With MIUI 12, Xiaomi users will also be able to record activities like walking, running, cycling, and climbing stairs, by just keeping their phones in their pockets. Xiaomi says its uses a self-developed "AI motion behavior perception algorithm" to record accurate health data and also save power at the same time.
Xiaomi also wants you to sleep with your phone on your pillow. MIUI 12 will bring sleep tracking that works by placing your phone on your pillow while you sleep. This, the company claims, can help track when you went to bed, how long you slept, how deep you slept, and whether you has dreams or snored.
AI calling

Xiaomi has been training its AI assistant — Xiao AI — to answer calls for users since last year. It's similar to Google's Call Screening feature which was introduced with the Pixel 3.
Xiaomi has now revealed that after half a year of testing, the AI ​​phone assistant has answered 4 million calls for closed beta users. With MIUI 12, Xiaomi has officially upgraded the AI phone assistant to a feature called "AI Calling." With it, users will be able to customize the language in which they want their calls to be answered. They will also be able to switch between automatic or manual call answering. However, it's unclear right now if the feature will roll out to users outside of China.
Enhanced privacy
In MIUI 12 also brings enhanced privacy features to Xiaomi phones. For instance, you can now choose to grant permissions to apps only once or only while you're using them. Permissions will be revoked once you're done using an app. For apps that don't clarify the use of permissions on your phone, the "Always Allow" option will not be provided.
MIUI 12 will also help users keep track of app behavior. You will be able to view a record of how an app behaves on your phone, the information it collects, the other applications it uses, etc, all in one place. You'll also get a clear reminder on the top of your phone screens when a sensitive permission, such as your location, is being used by an app.
Another feature Xiaomi refers to as the "Mask System" provides rogue apps with blank information and a virtual identity to protect user data for five permissions including contact lists, calendar, and call records.
Photo sharing will also be safer. Xiaomi says sensitive information such as device details will be removed from image files before you share them with anyone.
Eligible MIUI 12 update phones
The Xiaomi and Redmi phones eligible to receive the stable MIUI 12 update starting June include the following devices:
First batch
Xiaomi Mi 10 Pro
Xiaomi Mi 10
Xiaomi Mi 10 Youth Edition
Xiaomi Mi 9 Pro
Redmi K30 Pro
Redmi K30
Redmi K20 Pro
Redmi K20
Second batch
Mi Mix 3
Xiaomi Mi 8 series
Redmi Note 8 Pro
Redmi Note 7, 7 Pro
Third batch
Mi Mix 2
Redmi 8, 8A
Redmi 7, 7A
Mi CC9, CC9 Pro, CC9e
---
We'll update this article regularly as more MIUI 12 update details are revealed.